Summoner's Gate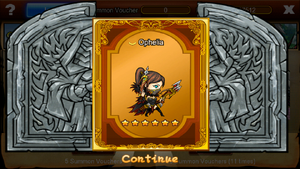 You get a Free Special summon every 24 hours, and a free Supreme Summon every 72 hours. You are guaranteed a 5 Star Hero when you use 50 Summon Vouchers at once for 11 Supreme Summons. You can also use Pal Points to summon 1-3 star heroes, each try costs 200 Pal Points and using 2000 Pal Points at once grants you 11 summon times. Pal Points can be obtained by praising friends and strangers, as well as inviting friends to battles and from opening some chests.
TIP: Clicking "BACK" on your device while summoning will allow you to skip the animations for summoned heroes, saving you a lot of time. (this might only work on Android)
Type
Stars
Cost
Normal
1 ~ 3 
 200 Pal Points for 1 hero
2000 Pal Points for 11 heroes
20000 Pal Points for 120 times with auto fuse
Special
2 ~ 4
1 Summon Voucher for 1 hero
10 Summon Voucher for 11 heroes
Supreme
3 ~ 6
5 Summon Voucher for 1 hero
50 Summon Voucher for 11 heroes
Special Event
1 ~ 6
5 Summon Voucher for 1 hero
50 Summon Voucher for 11 heroes
500 Summon Voucher for 120 heroes with auto fuse
Additional Notes
"First Draw 6 Star" at 11x supreme summon only applies to the very first "11x supreme" done by a player, so that doesn't apply to most players who started before v2.7 .
Community content is available under
CC-BY-SA
unless otherwise noted.