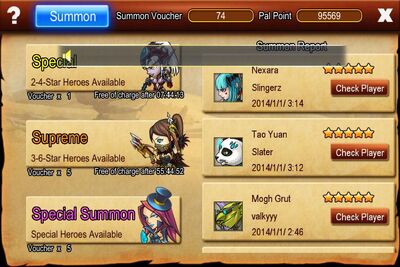 Special Summon Event is an event which is held periodically in Pocket Knights. In this event, players can use their special summon vouchers which they can earn from the BOSS battle event in-game to summon heroes from the Hero's Gate. The tab for Special Summon will appear at the bottom of the summon list in the Summoner's Gate, when the event is out.
Special Summon Vouchers
Special Summon Voucher is an exclusive item in the world of Pocket Knights. Players can join the Special Summon Event only by using Special Summon Voucher. The normal summon vouchers and Pal Points, as well as any other mean of summoning heroes are excluded. Up until now, the only way to obtain Special Summon Voucher is to join the BOSS Battle Event and fight the bosses. 1 Special Summon Voucher will be rewarded for any participant in a BOSS fight if the BOSS is successfully defeated within the time limit.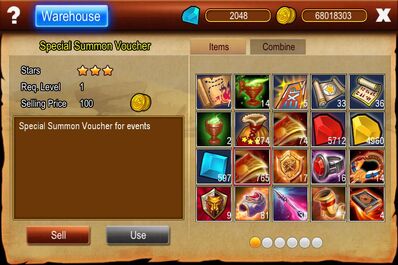 Special Summon Interface
The Special Summon Interface is basically the same as the Supreme Summon Interface: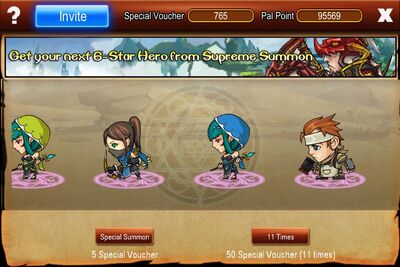 Any summon attempt consumes 5 Special Summon Vouchers.
Using 50 Special Summon Vouchers at once grant a free summon attempt, for a total of 11 consecutive summon attempts.
No 5-Star hero is guaranteed even when 50 Special Summon Vouchers are consumed at once.
Players can receive all available heroes up until now, from 1-star to 5-star, with the 1-star, 2-star and 3-star heroes being the most common. 4-star and 5-star heroes are harder to obtain.
All 3-star heroes obtained by Special Summon will always be Awakened Heroes.
Special Summon is the only summon method players can use to summon Special Hero, such as 5-star Warrior Erondragas . 

You can read more about Special Summon Vouchers here
You can read more about BOSS event guide here
Updated 2/1/2014.
Eden
Community content is available under
CC-BY-SA
unless otherwise noted.