Patch 3.2.X

More 7 Star Heroes; Hungerer and Death Rider

Main Characters have combos with various gears.

Main Characters now have a 100% chance to activate their skill in combat. Example: Jansen will now always stun when activating his skill.

Max character level increased to 350 and 4th world map is open.

New prestige added.

Leaderboard for Fate Spin added.

Demon battleground gives personal guild contribution points.

Player info can now be viewed.

Increased Dungeons experience.

Col.Reb - If I can somehow decode the APK from this game and have working images i will be able to Upload new images of heroes and updated pictures for the WIkia, if anyone can do this please contact me at ColonelRebelZQGame@gmail.com
Please keep in mind this is Pocket Knights For Android/IOS, this is not Hero Dream or Pocket Knights Windows version, strictly information on Android/IOS platforms even though majority of the information on this Wikia may be similar to other versions of this game.
Frequently Asked Questions
<choose> <option>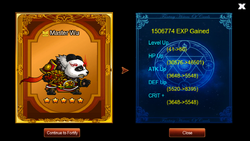 Everyone knows that a Chest Monster gives 500 EXP to a hero. and that if you have a Maxed Chest Monster that gives 1450 EXP. Then if you have a King Chest Monster that will give 3000, or 6450 at Maxed level (10). Obviously anyone can see that with these cards are definately worth it to level them to max level, then use it for EXP to promote your heroes to awesome levels. But what about 3★ or 4★ Heroes? is it worth it to..(More) </option> <option>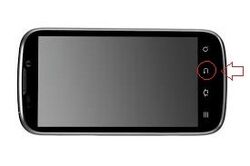 Mass Normal Summons: Here's a tip to all the higher level players or just anyone who has a massive load of Pal Points. Lots of players i know have around 50k ~ 100k or more stashed up and too lazy to summon and fortify into fusion stones. Here's a quick shortcut that will make you finish that entire thing under 5 minutes. (Note : This only works on android, i dont know how to do it on iPhone yet sorry) First go about normal summoning x11 like you (Read More...) </option> <option>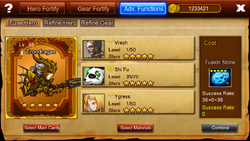 How to Awakening Heroes: You can Select a Hero to Awaken, Awakening a hero will make it a Awakened Card, giving it bonus stats and starting off all battles with a CRIT. To do so you must select the Hero you wish to awaken, then select cards to use as material. The more cards you use the higher the success rate. At least one other card is needed to fuse. Silver maske card gives a higher fuse percentage. Also will cost Fusion Stones. Amount of Fusion stones needed is 3 fusion stones with the same number of stars of the fusing hero... ( More Info Read here!!) </option> <option>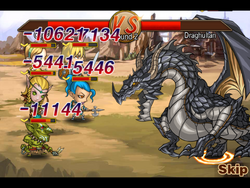 I was getting sick of being oblivious to the formulas that make the wheels turn, so I decided to take on theorycrafting today.
In order to do that, I removed all my gear and runes, and swapped all my team with my collection of 3-star, level 30/30, tier 1, Awakened (S) heroes. Then I took all my heroes to the final boss of Desert, Draghultan. I chose an AoE boss, because everyone hits it, and then it hits everyone at once; making calculations all that easier..(Read More) </option>

Heroes
Heroes

Heroes

Heroes
Gears

Gears

Gears

We have Quests on this Wikia!
Screenshots