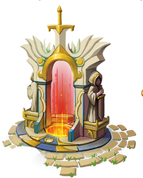 In-Game Descriptions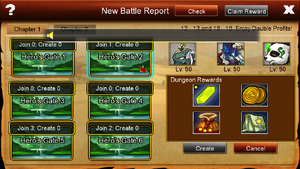 There are 6 different Themes, Players can create the game once and join a game up to 3 times in each theme. Higher level gates will be unlocked as you level up.
Rewards from the game you joined are half of the game you created. Players need to have teammates to enter battle. Note: You have to claim rewards before going to next Battle.
The "Check" button allows you to watch a replay of your previous battle. This allows you to watch which players in what order were used in a "join", which might help pick the right people and order for a "create". Rewards are doubled from 12:00 - 13:00 and 18:00 - 19:00 , These times are different on each server so please check which time zone it's in Here .  Also notice that these times are subject to the Time Zone Bug.
Updates after 2.8
Hero Gate is currently over-tuned. As player power levels continue to rise it was decided that the Hero Gate needed to increase in difficulty in order to provide the level of gameplay desired.
Gates
Each Gate has different enemies, and the enemies get progressively more difficult the higher the level of the gate you challenge.
Note : Gate 3 and 6 are surprisingly easy since its just 1 Boss, with 3 teams it's a breeze to defeat the boss.
Chapter 1 Gates
Chapter 2 Gates
Chapter 3 Gates

Note: The gates have a re-occuring theme, with Gate 3 and 9 being the same boss, but with increased difficulty.
Rewards
The rewards you get from completing a gate are fantastic. The rewards shown are not a 100% garauntee, sometimes you won't get any Evolution Materials. Also during double profit time all rewards recieved are doubled.
Each gate lists 4 rewards, of which the ones on the left change every day of the week and the ones on the right always stay the same.
Day
Reward1
Reward2
Gates 1 +
Gates 1-6
Gates 7-12
Gates 13-18
Sunday
Energy Stones
King Chest Monsters
Transfer Potions
Monday
Energy Stones
Super Soul Stone
Super Soul Stone
Tuesday
Dungeon Crystals
Small Pearls
Refine Stones
Wednesday
Energy Stones
Booster Gems
L1, L2 Rune Packs
Thursday
Dungeon Crystals
Courage Gems
Fusion Stones
Friday
Energy Stones
Hero Stones
Tokens
Saturday
Dungeon Crystals
Big Pearls
Big Pearls
Doing a successful create of Hero's Gate 12 and collecting it, also results in the completion of all of Hero's Gate 1-6. Doing a successful create of Hero's Gate 18 and collecting it, also results in the completion of all of Hero's Gate 1-12.
These auto-completed gates still need to be manually collected. This is best done during double rewards, since reward amount seems to be calculated at collection time and not at completion time.
Community content is available under
CC-BY-SA
unless otherwise noted.