Here's a list of the 6 Star Gears:
Ancient Gear
Holy Gear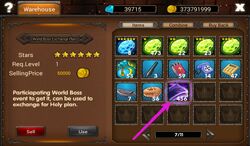 Holy gear plans can be bought from the World Boss exchange in the Event Hall for 20 World Boss Exchange Plans each. This exchange might not be available in the Event Hall all the time.
PLEASE NOTE: Magic Diamonds can be gathered at the following locations:
1)Demon Battleground Guild mines (You must be in a guild and the guild must have conquered a mine)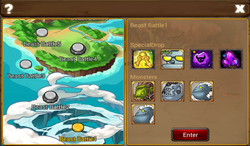 2) Underground Battle (Must be Level 100) Random Drops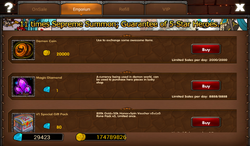 3) Go to "STORE" - "EMPORIUM" - (Scroll down) Magic Diamonds- cost 1 Diamond = 1 Magic Diamond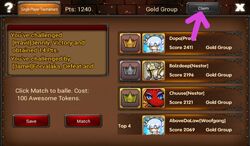 4)Arena – Cross Server Tournament – Enter - Single Player Tournament – (Gold/Silver/Bronze) Group "CLAIM"
5) some events
Zodiac Gear

Zodiac gear can be combined at Combine in the Event Hall. Minimum requirements are level 120, tier 11 for the Ancient gear and level 90, tier 5 for each of the Holy gear.
Additional Notes
King's Gear can be turned into Ancient Gear through Gear Star Up.
Of Ancient gear, only the three weapons seem to be listed as available through pieces or plans. The remaining five gear will have to be aquired whole. (through "Star Up" or maybe an event. No chest yet seems to be dropping Ancient gear.)
Community content is available under
CC-BY-SA
unless otherwise noted.